11 Best Sites Like Omegle Alternatives For Random Video Chats
In today's digital world, everything has gotten on the internet.
One can even make friends online. How you may ask, well, there are hundreds of best websites for video conferencing that were created to connect strangers online.
People with the same interests socialize on these websites and make new friends. One such website is Omegle.
What is Omegle?
Omegle is an online platform where one can chat and interact with strangers for free.
You are not even required to register yourself before getting started on Omegle, which means that you remain anonymous on this platform.
It was created in 2009 by an 18-year old. Within just a month, Omegle attracted users from all over the world. Over the years, additional features like video chat have been included in the platform.
Now more than ten years later, Omegle has become chaotic with thousands of users and chat-bots. Therefore, many Omegle users are looking for an Omegle alternative.
Well, you don't have to continue your search because here are the top 12 random chat sites Like Omegle. You'll be surprised to see that some of these Omegle alternative sites are even better than Omegle.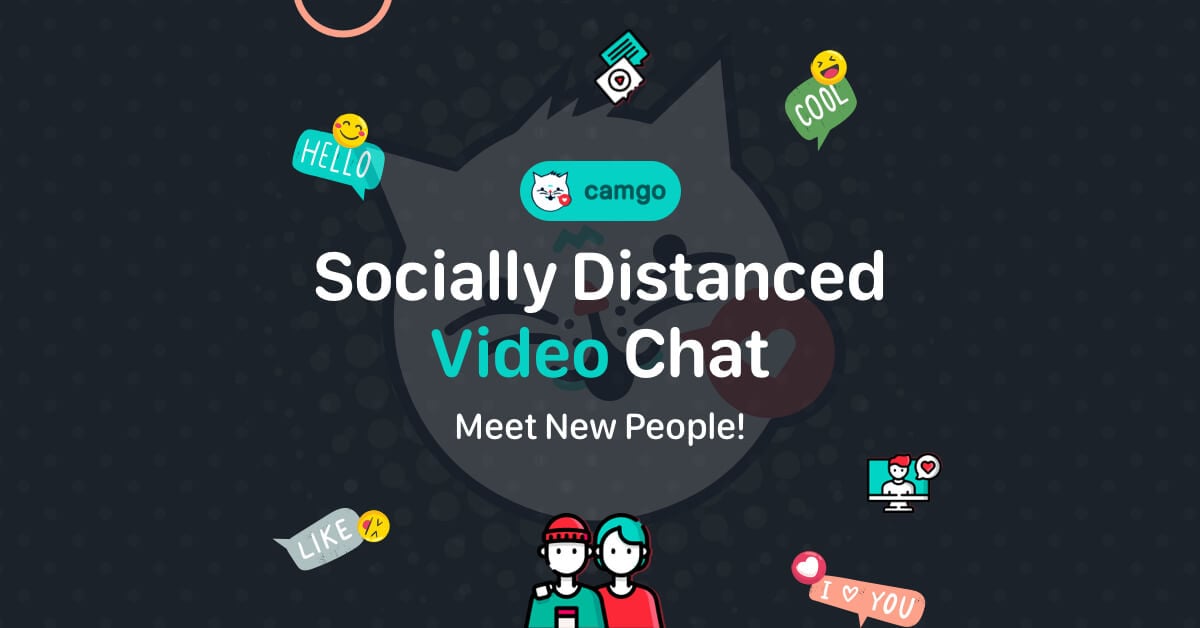 Whether you're an introvert or an extrovert, Camgo has something for everyone. Not only is it free to use, but you can chat one-on-one via text or webcam, whichever you prefer. Talk anonymously about your pets, hobbies, or plans for the future – there's a match (or dozens of matches!) for everyone.
If safety is a concern, take advantage of the Safe Search system, an AI-powered feature that sorts through your matches to eliminate potential misfires. Since in-person meetings are at record lows, Camgo is here to help revive your social life – try it out, and see what it can do for you!
Chat random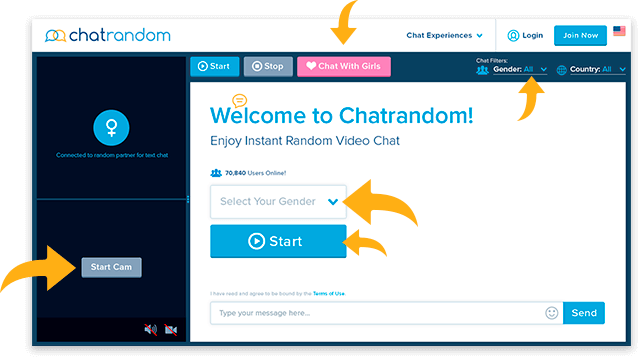 This is one of the best random video chat site that is available out there. You can use the gender filter and the country filter before getting started.
After getting started, you'll be paired with a stranger instantly. The great thing is that you can report the users who are breaking the rules.
However, you will be required to keep your face in front of the camera.
Check Your Relationship Gap by Taking This Short Quiz
Chat Alternative(an android based alternative to Omegle)
This android based app is a great alternative to Omegle. Its features are very similar to those of Omegle.
The only difference is that it has strict rules and regulations, and that makes it even safer than Omegle.
It has fast loading webcams, which means that you will be able to connect with more people in less time. Chat Alternative requires no registrations at all, so you stay anonymous there as well.
Tinychat
This platform is the second-most popular platform to talk with strangers after Omegle. It has the same great features, but it is more organized.
You can chat, call, or video call strangers while feeling secure because of the Tinychat's policy. You can even create a chatroom to have group convos.
Honestly, it is far better than Omegle. The significant difference is that in order to login you will have to enter your E-mail and birthday, which kind of reveals your identity.
iMeetzu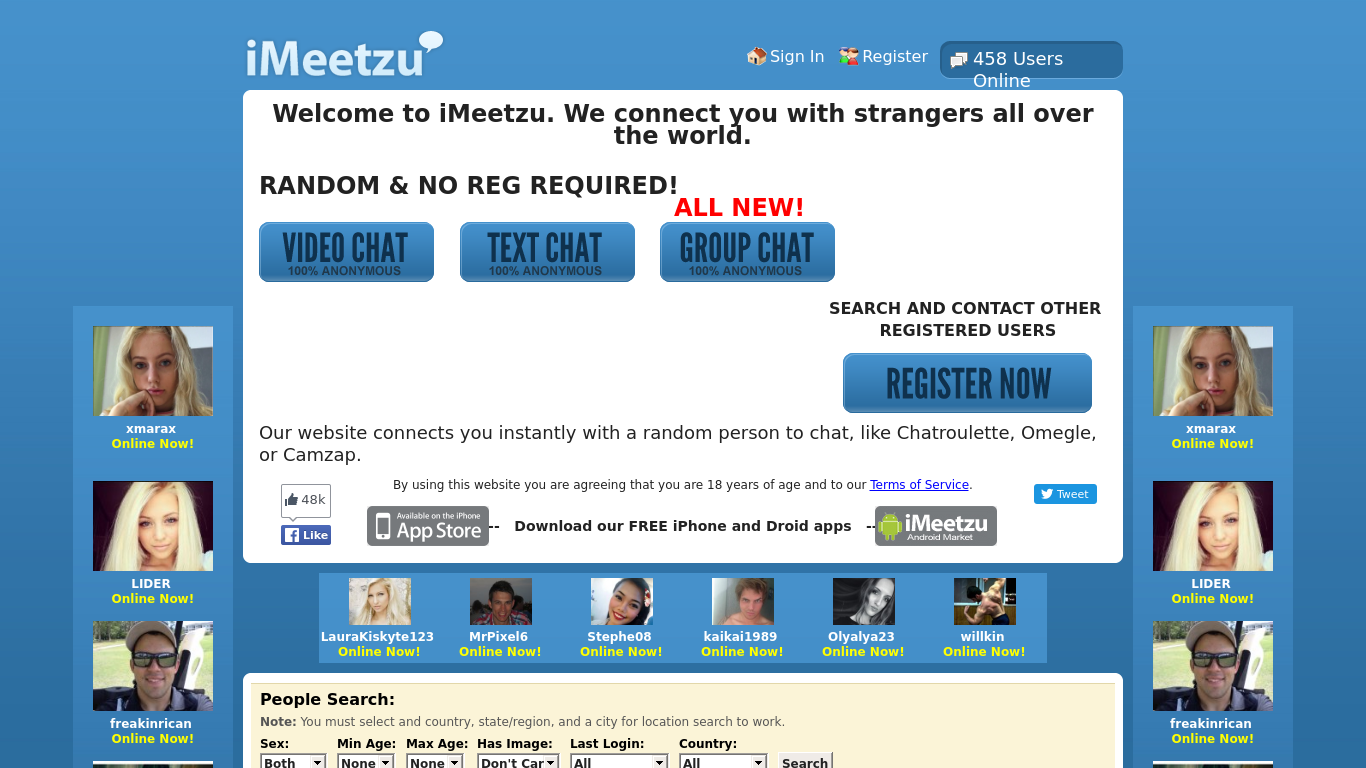 iMeetzu is a small website like Omegle.com, which has the full potential to become the next big thing. Its video chat section is very similar to that of Chatroulette, and it has a well developed random chat feature as well.
There is an option of group video chat just In case you want to video chat in a group.
iMeetzu has a remarkable option and that is that you can save your newly made friends. iMeetzu is compatible with iPhone, Android, and desktop.
Emerald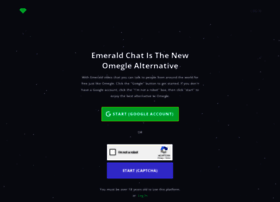 Emerald is another Omegle like random chat platform which looks promising.
A notable feature of this Omegle alternative website is that it offers an anti-bot chat system, which is a feature that most of the random chat platforms lack.
Other than that, it offers other basic features like video sharing, audio sharing, and texting. Additionally, their main web page is excellently designed, and this gives off a good first impression.
ChatRad
ChatRad is another random video chat website that is similar to Omegle. It is quite easy to get yourself registered there.
It provides a secure environment to its users because if its strict terms and condition. Just go to the website and get connected with thousands around the globe right away.
ChatHub
ChatHub is an amazing random video chat and random text-chat platform. This platform is similar to Omegle and Chatroulette.
A dominant feature of this Omegle alternative is that it has a language filter that enables a user to get paired up with the users who speak the same language.
Other than that, it also has a gender filter and a fast connection. ChatHub runs smoothly both on PC and mobile phone.
It also has no multiple match filters, which helps to avoid getting matched by the same people again and again.
Chatous
You can find many sites like Omegle and Chatroulette, but Chatous is seriously one of the best alternatives.
On this random chat website, you can find people who want to chat about the same topic by selecting or posting a #hashtag.
Your identity won't be revealed as you are allowed to change your name anytime on Chatous. You can even share Youtube videos in a chat. Chatous is available both for desktop and android.
Paltalk
Paltalk has been around since June 1998. It has over 100 million downloads, and it is available for desktop, android, and IOS.
Paltalk allows its users to create chatrooms, and each chatroom can host hundreds of users at a time.
You can share videos, pictures, text, and audio messages on this Omegal alternative. A cute feature of Paltalk is that you can share stickers and gifts with a friend or with an entire chat room.
Face Flow
Face Flow is one of the best video chat sites that are available out there on the internet. You can video chat with your friends, family members, and strangers on this website based Omegle alternative.
This random chat platform does not require to be downloaded, which means that you can start chatting right away.
It allows the user to either make one on one call or to even a group call. You can make new friends on Face Flow in the public group chat feature, but remember to be careful there as their moderators will be watching over the discussions 24/7.
If some of your friends are not on this platform, then you can still connect with them on this platform by sending them a guest chat link.
You can visit their website to know more about this Chatroulette alternative.
FAQ's related to Omegle :
Is Omegle safe?
Honestly, the internet is not a safe place at all. One has to be cautious while surfing different websites.

There is one rule that I believe that every person on the internet should follow, and that is STRANGER DANGER. Now, Omegle and the websites like Omegle were created for the sole purpose of connecting and socializing with strangers.

If you are one of the users, then you must know very well that there are all kinds of people there, even predators use Omegle.

Therefore, one should be extremely careful on this platform.

Now, I am not saying that only attackers are on Omegle and all Omegle alternatives, but one there is a popular saying better safe than sorry.

Here are a few rules that everyone using Omegle and the other random chat must follow:

-Never share any personal information like your address or phone number with a stranger.
-Don't tell your social media like Instagram account, Facebook ID to anyone unless you fully trust them.
-Always use an antivirus or VPN before getting started.


Can Omegle track you?
Well, according to the sources, someone on Omegle can trace your town and country, but it is nearly impossible to trace someone's house address.

However, it does not mean that one can not be tracked down on Omegle. Therefore, one must use antivirus software or VPN as a precaution.
Suggested –