6 Best PDF Editor Software for Mac
When in need of editing a PDF document some PDF editors make the magic happen by providing editing and other manipulation tools.
There exists both free and paid software's which are readily available and satisfy the needs of every client.
PDF editors make editing possible where it provides a tool to recognize texts in scanned documents and makes editing of pictures available.
PDF editors are also important since they offer security strengths to its clients through the use of JavaScript that has the capability of detecting attackers who use malicious codes with the intent of uncovering the security vulnerabilities of JavaScript.
For you to edit your PDF on Mac, try this solution.
Best PDF Editor Software for Mac (Jump to Section to read)
CocoDoc PDF Editor
CocoDoc is one of the many different types of PDF editors. It helps in the editing of documents and also showcases special capabilities in optical character recognition (OCR). the software allows one to form PDFs, table of content and, forms.
The mentioned software is available for both Mac and windows. CocoDoc makes the users of windows have something to boast about since it offers editing capabilities and other powerful functions.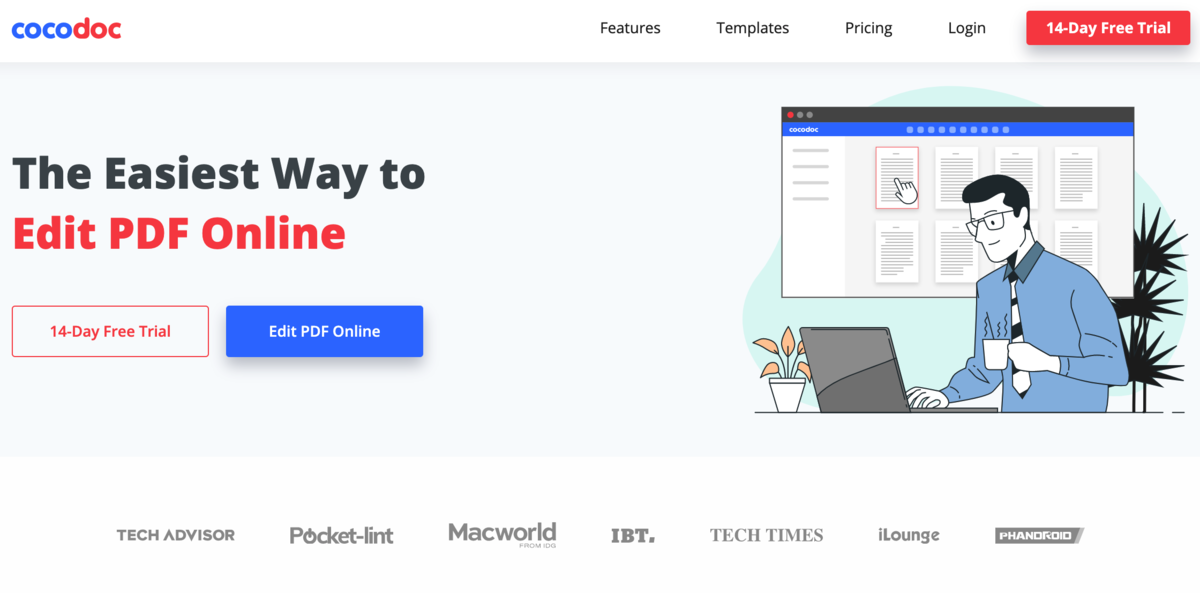 PDFpenpro
The OCR tool enables the user to detect whether the document you are using contains scanned images. When opened with the PDFpenpro it's able to display a strong security mechanism to aid in validating the validity of the PDF document.
PDFpenpro recognizes texts within a short period which makes them editable and searchable.
Acrobat Pro Dc
Acrobat Pro Dc offers editing tools, ability to edit scanned documents, the OCR capability allows the conversion of scanned documents to texts which allows changes to be made on the PDF document.
Remember Acrobat does not allow for the conversion of the whole document. Instead, it waits for you to start using the Pro DC editing tools.
Also, Adobe offers the function of editing images and texts contained in unscanned documents that are easy to use.
Adobe interface looks amazing and pleasing since editing tools surround the document under review. Which is very easy to use because the aspect of organization and editing options are arranged well.
Acrobat is compatible with both Mac and windows but it seems to operate in neither environment. It's not a bad thing because it only makes you feel like you are working outside your preferred operating system.
PDF Candy
PDF Candy is one of the best free PDF editors available because it offers the OCR features that allow for scanning text a feature that is not provided by other free PDF editors.
It also offers strengths such as extracting, uploading PDF files and, creating a text document.
PDF Candy offers 44 tools for converting and creating PDF files. However, it's also easy to rearrange pages within a document, edit metadata within a PDF file, watermark addition, add or split pages to the document and, offer pass-code capabilities.
Once a document has been edited with PDF Candy it's easy to download the edited document furthermore candy keeps the document in a queue so that you can download them whenever you need it.
PDFescape
PDFescape is a free web-based PDF editing software that has a limit of working on less than 100 pages. Even when using web-browsers that are up to date PDFescape does not provide OCR strengths but it offers annotation tools that are very easy to use.
These annotations tools offer capabilities such as insertion of notes, strike and highlight through text and, the addition of new images.
PDFescape has limited font options, due to the lack of OCR capabilities, one cannot make changes to an existing text and is limited to the addition of new text to an existing document.
Sedja
While on the Sedja website click on upload PDF file then you will be prompted to choose the preferred file on the computer documents.
After selecting the PDF file click open and the file will be uploaded on the site.
It might take some time for the file to open which is dependent on the size of the file and the internet speed.
The selected file will now open on the site and it will be in an editable format where the user can select the text he/she wants to change.
PDF editors play a very crucial role in ensuring that documents be easily manipulated or accessed. various software is available which suits each client's needs.
Depending on the user's preferred choice various websites have directions on how to download and install the software are provided.
When one wants to send important documents such as resumes the documents are sent in PDF format which is not easily altered.
Suggested –