6 FREE Online Tools to Draw Diagrams and Collaborate
Online diagramming tools are special web apps that let you draw, edit, save and share diagrams or flowcharts online.
The biggest benefit of these tools is that you never have to install any software to draw and edit your diagrams. It's online and completely portable.
Visual content and communication have dominated the world of web communication.
With its increased usage and demand in the corporate world, visual content has become the chief source of representing new and better ideas and concepts.
When it comes to representing and elucidating an idea, nothing works better than diagrams and flowcharts. Diagrams make unexplainable self-explanatory.
On the other hand, flowcharts convert lengthy procedures in a few comprehensive instructions.
Diagrams and flowcharts are more commonly used when it comes to putting forward an explanation of a certain type of idea and complex information.
Since visual content is more appealing to the human eye than the textual one, this factor makes diagrams an effective attention-capturing tool.
Human brains are hardwired to perceive and understand different images and visuals more quickly which makes diagrams and flowcharts one of the powerful message and idea conveyor.
Topmost diagramming tools to look out for in 2019:
Creating eye-catching and appealing diagrams and is not as simple as it might sound like.
All thanks to technology and its advanced tools, diagramming has become a relatively easy task.
You can also improvise and use word processors, photo editors and presentation makers as diagramming tools. However, sometimes using the right tool instead of contriving with available software packages.
Following are the best diagramming tools on internet which have been revealed by Design Iconic – the free logo maker tools to create stunning logos online Powered by Artificial intelligence.
The major concern of most people out there is a high price tag attached to these dedicated diagramming software packages and tools.
Fortunately, numerous free and cost-effective diagramming applications are now available online.
Let's have a look at some of the best diagramming apps and tools that you can use to create remarkable flowcharts, UML diagrams and UI layouts:
It is one of the most widely-used and preferred online diagramming tools available online– for quite obvious reasons. Just, make an account and your get first free trial to create the first flowchart draft or diagram design.
The web-based interface of this tool provides you with free access to hundreds of templates and mockups, shapes and diagram designing elements. The easy-to-navigate menu bar allows the users to explore different features and all the available options. On top of that, designing process of flowcharts and UML diagrams is straightforward.
Offering seamless real-time online collaboration, this tools allows the users to view the edit and changes made by the co-workers. The free trial of this tool doesn't expire in a few days which means if you need a tool for occasional diagramming purposes then Lucidchart is perfect for you.
Developed by Microsoft, this tool has a user interface similar to Microsoft Office. This user-friendly interface allows the users to navigate through and discover various functionalities and features without much hassles.
Visio offers a fast and intuitive way of creating flowcharts and UMLs. From creating a floorplan to engineering diagrams, Visio has numerous templates, samples, and shapes that you can explore and use for diagram designing purposes. Whether it's exporting images of different formats or SVG vectors, Visio offers wide-ranging export options.
The best part about this tool—it organizes flowcharts and diagrams for you. The biggest drawback—every amazing thing comes with a price tag and Visio is no exception to that concept.
Supported by almost every OS, Draw.io is probably the one online tool which provides you offline access. Without any need of making accounts, you can use Draw.io for personal as there is no price tag attached to it.
The well-defined grid-lines of this tool allow the users to arrange the design elements properly. The UI of this tool is similar to the Google office application which makes it easy-to-use.
Exclusive feature: when it comes to designing a flowchart, Draw.io offers offline editing options. For this, you have to save your flowchart design or template on the device and not on the cloud.
One shortcoming: the number of templates, samples, and shapes available on this tool is not as wide-ranging as other tools.
Overall Draw.io is the flexible software package with easy-to-use features and simple to navigate interface.
A web-based diagramming tool which is best suited for anyone who wants to learn and create exceptional diagram designs.
Whether you want to create a Venn diagram or flowchart or UML diagrams, follow these simple steps to make the diagramming job worry-free:
First and foremost choose an appropriate template form the template archives of Gliffy.
Once you have selected the template, drag and drop the best-suited shapes, icons and other elements from the available options. Other than that you can drag and drop your own shapes and design elements from your computer.
Design according to the provided gridlines. The built-in grids help in keeping the design tidy and diagrams well-organized.
Gliffy offers comprehensive export options and supports export of images and SVG vectors. Also, you can easily import Visio files.
Another great feature of this tool is that it is incorporated with bug detection and management software packages like Jira and Confluence.
Whether you need a template and sample for flowchart or software design or landscaping or wireframe, this versatile online software has an extensive collection of maps, samples, and templates that you can benefit from.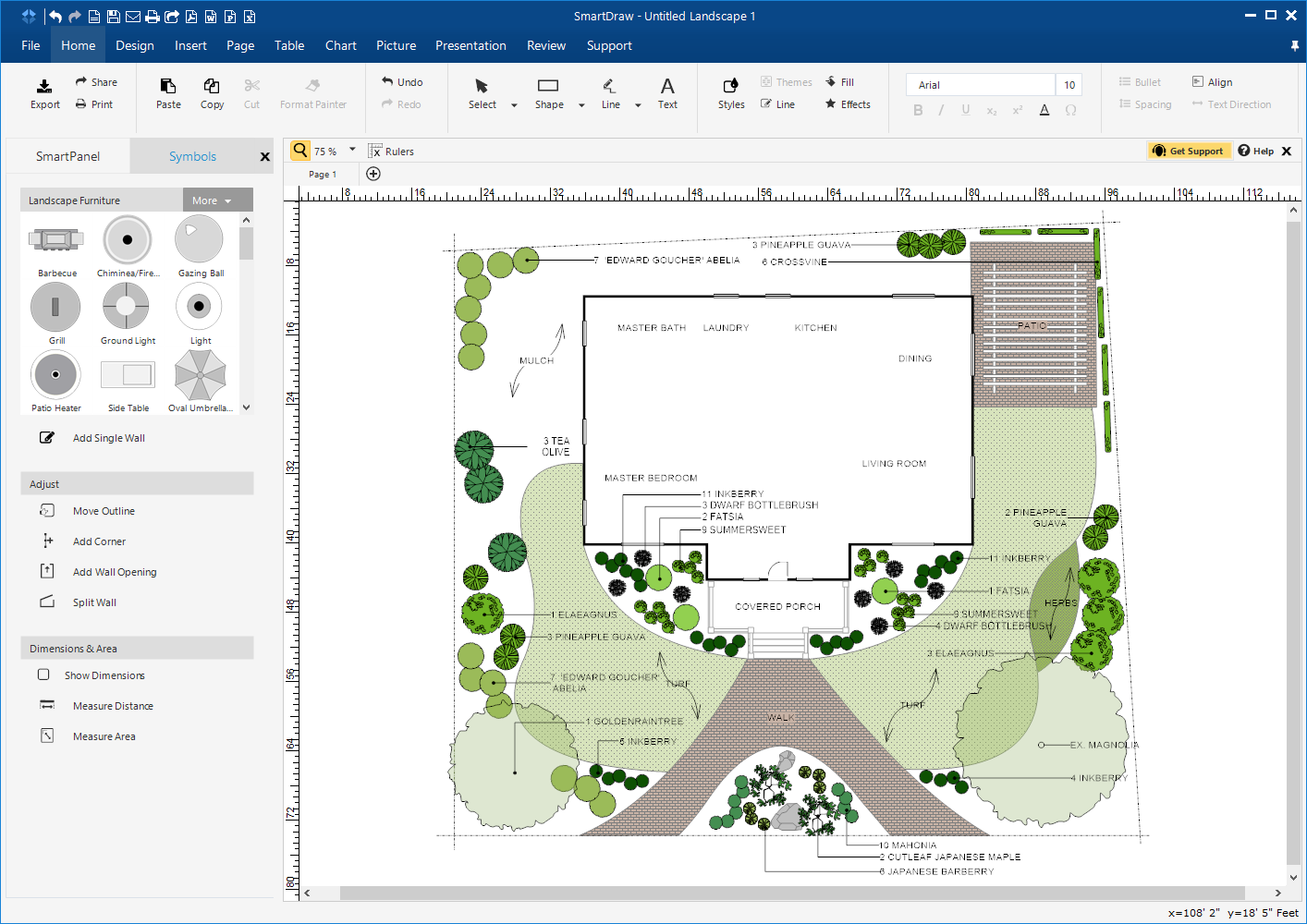 Providing you with 7-days free trial, this tool has a few downsides too. SmartDraw has a clunky UI as compared to other online diagramming tools. However, the design files created through this tool can be saved on Drive, Dropbox, OneDrive and other online storage drives.
Popularly known as free online logo generator and maker, Canva also provides its users with diagram designing options.
Follow this easy 5-step process and create any type of diagram and flowcharts through this tool:
Make an account on Canva and start with your flowchart designs.
Select any template from the built-in comprehensive template library.
Choose design elements and images from the stock images archives.
Arrange your design elements and enhance your design using different filters and visual effects.
Save your design and access it whenever you want to.