6 Best Free WordPress Contact Form Plugins You Should Use
Choosing the best suitable contact form for WordPress is little tough. Now several free and paid WordPress contact form plugins are available which has features vary from each other. Let us have a look at the best contact forms plugins for wordpress.
WPForms is one the most popular WordPress contact form plugin, which is beginner friendly with easy to use and yet effective. WPForms comes with drag & drop online form builder with a huge bunch of options available. The paid version allows you to built multi-page forms, streamlined entry submissions, management of entries, payment forms, email subscriptions, use smart conditional logic order forms and much more.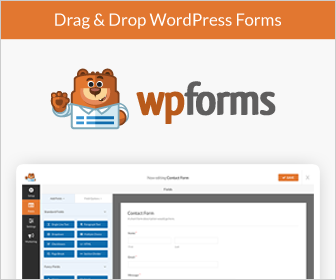 All forms that are created with this plugin are responsive and mobile-friendly. It has online payments system via PayPal, excellent option for sales, donations, etc.,
Automatically blocks the spam submissions. Using the short codes, you can embed the forms anywhere on the site.
Instant notification feature lets you make quick responses to leads and also gives you intelligent Geo-location data. Lastly, this beginner friendly plugin has smart CAPTCHA and honeypot techniques for blocking spam. Wpforms is one of the best features and user-friendly form builder available for WordPress today.
Gravity Forms is one of the best paid wordpress contact form plugins that has many advanced functionalities, which can create complex forms. Additional add-on available in its catalog, but for every add-on, you has to pay a yearly subscription which is little painstaking. With gravity forms, you can create user submit content, web directory, and surveys, quiz, multi-page forms, etc., You will get premium support options like FAQs, Email support, knowledge base and forum support.
Ninja forms can help you to create a highly interactive form with little efforts. The base plugin is free from official WordPress repository. Ninja Forms enables you to use the monitor and manage the forms right from the WordPress Dashboard. The premium version offers you to extend its functionalities as connecting with Campaign Monitor, SMS notifications, Salesforce, Freshbooks, etc., There is a helpful community support option, as well as documentation, guides, and email support.
Yes although it is free, to get add-on you has to pay from $19- $499.  Buying 2 or more extensions will cost you an equal amount of Gravity forms.
Contact Form 7 is best wordpress contact form plugin online. With the record of most downloaded contact form plugin and currently running on several sites.  Price is its key factor of it huge download and usage. There are tons of plugins which can act as third party add-on for this contact form. You can create a basic contact form for your blog.
Contact Form 7 is the most popular form plugin in the WordPress repository, and it is currently installed successfully on millions of sites because of its simplicity and customization features. With the plugin you can create, customize and manage multiple contact forms, and place them on your sites within just a few seconds.
It is little tough for absolute beginners and user interference is bit weird. Frankly, say to tune your forms you have to be very careful and alert not to mess up the entire structure as its interface is solely based on HTML tags. Being its free availability, its support features are limited. Finding best add-on can be a daunting task which fits perfectly with it.
Pirate Forms is one WordPress contact form plugin which is free to use and lets you create a contact form. It extremely simple and takes very less time to setup. However, it serves very little purpose for making the best form. It has no integration's functionality to add third-party plugins to support for other features of WordPress contact form plugin.
Jetpack is one of the popular WordPress plugin, which has plenty of tools to gear up your website and make it work smoothly. It includes a mobile friendly responsive builder too, which enable you to add a contact form and backed by Askimet for blocking spam. Its design options are simple, which easy to operate. However, have no other features which beat the Top plugins like WPforms and GravityForms.
Conclusion –
For every successful website, it is vital to generate traffic and to let them know what you are coming up with needs a contact form. The temptation to select the best wordpress contact form can be overwhelming, but you need to research before you pick up.