10 Best Websites to Learn Japanese
Despite being the world's ninth most common language, finding the best reliable website to learn Japanese can be challenging. So, if you are eager to learn and wondering how and where let us help you.
We've compiled a list of free websites for learning Japanese for self-study to help everyone out after thorough research. So choose any popular websites for Japanese language classes and lessons and get better immediately.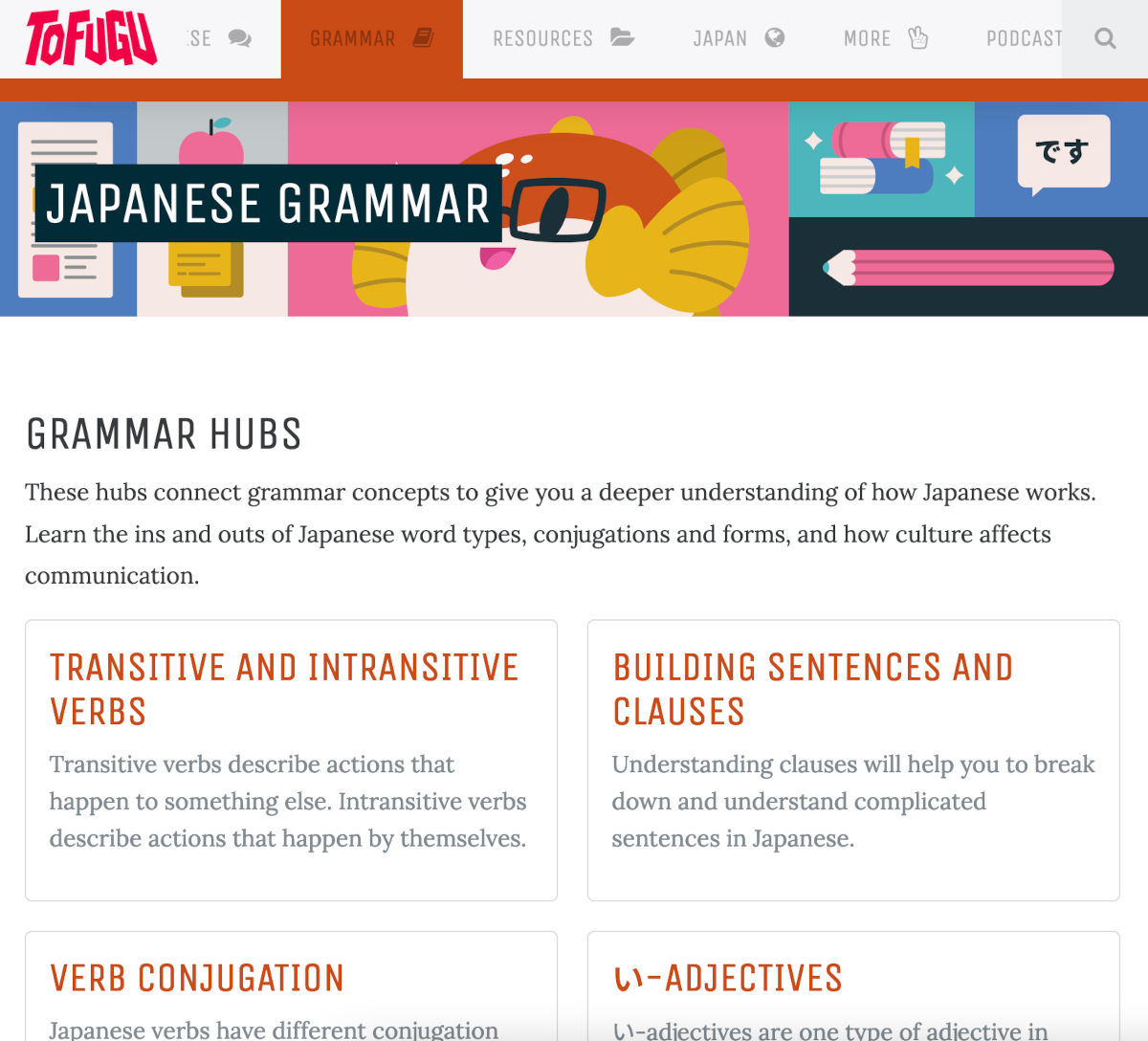 Tofugu is a website that offers resources and articles about learning the Japanese language and understanding Japanese culture. It was founded in 2008 by Koichi and Ami, a husband-and-wife team passionate about Japan and its language.
Tofugu provides comprehensive resources and articles on learning the Japanese language and culture. The podcast is informative and entertaining, covering various aspects of the Japanese language and culture. The website has a positive and supportive community of learners and enthusiasts.
It also has a podcast called "Tofugu Podcast," where the hosts discuss various aspects of the Japanese language and culture. If you are looking for the best online resources for Japanese language learning, then this is the right website for you
What we like:
The content is engaging and makes learning fun
Best for:
Benefits & Features:
Comprehensive articles and resources
Extensive coverage of Japanese grammar, vocabulary, and kanji with clear explanations and examples
Fun and engaging content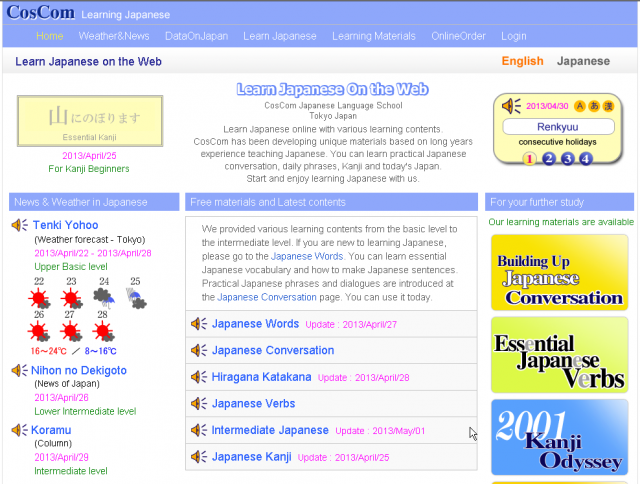 CosCom Japanese provides concise instruction that emphasizes all the elements of Japanese. These concepts cover terminology, linguistics, and the Japanese sentence structure rules. In the e-learning, each term and statement has both an original Japanese voice recorder and an English interpretation.
Also, CosCom is the most recommended website for Japanese language proficiency test preparation. Itprovides useful supplements to their classes, such as summaries of global media in easy Japanese, a list of the 200 most typical adjectives in Japanese, and instructions on how to write hiragana, romaji, and kanji on desktops.
What we like: Provides terminology, punctuation, and various writing courses in Japanese.
Best for: Learning basic and everyday communication
Benefits & Features:
Online resources for beginners are free.
For a one-time subscription, advanced courses and add-ons are available.
George Trombley, a Japanese scholar who became fluent in the language and later worked as a translator for firms like Microsoft and IBM, developed Japanese From Zero. With online signing up, the first session, which consists of 13 completed courses, is entirely free. The remaining four sessions must be bought either as textbooks or softcopy.
But the digital and paperback sessions are sponsored by the Japanese From Zero Youtube page if you're seeking stuff totally free. The videos are ordered logically for mastering Japanese from the start, and it is the website with the best Japanese language courses for beginners to practice Japanese.
What we like: Focus on achieving a solid base in Japanese as a fresher.
Best for: Beginners who want to learn about the culture.
Benefits & Features:
There are free resources available online and on YouTube.
The first lesson is also totally free.
Increases pronunciation and flair.
edX is a website founded by Harvard and MIT that provides top-notch lectures from colleges around the country on a range of subjects, like Japanese. edX's Japanese lessons are given dignity by Waseda University in Japan. A motivated faculty teaches 2 levels of in-depth introductory programs in English.
Students can enroll in single classes or pay for an entire or three-part program course. Even though premium certified courses have more resources and exams, all services are available to study. In addition, they provide programs that instruct students on pronouncing Japanese words correctly and using methods.
What we like: exceptional classes at the professional level
Best for: Structured learning
Benefits & Features:
Free course surveys are available, and a professional certification course is available.
Interesting trials
Covers a variety of subjects
NihongoShark is a collection of more than 1,000 thorough Japanese courses to provide short and efficient teaching in the language. Even the most difficult concepts of Japanese are made clear by the thorough sessions, which are also enjoyable. In addition, Nihongo Shark is a useful interactive website for practicing Japanese language skills for both expert users and new beginners.
It separates Japanese into four categories: basic, medium, and master. If you're preparing for the Japanese Language Proficiency Test (JLPT) or want to prepare before a vacation to Japan, the programs are organized into portions based on your training objectives. Since each class is self-paced, you can move at your own pace while learning.
What we like: Availability of lessons on various Japanese language subjects.
Best for: Limited period learning
Benefits & Features:
Basic, deluxe, and unlimited price options are all available for a free trial.
It has a collection of more than 1,000 in-depth Japanese lessons.
A useful tool for experienced speakers.
Japanese native citizens developed the NHK World Japanese program for language students. You will master authentic and applicable keywords and sayings because you receive Japanese instruction directly from the expert. This is among the websites with the most comprehensive Japanese language learning programs. In addition, itprovides practical examples, tests, and movies like the BBC's Japanese study program.
Lessons downloaded for free can also be used for revision later. The learning process is made more interesting by the presentation of all the content, which includes plenty of characters and lively, vivid images. In addition, the courses contain a nice monitor to ensure you practice every day and several other entertaining elements.
What we like: It is similar to the BBC's series on mastering Japanese.
Best for: Modern education and learning
Benefits & Features:
Provides pictures, tests, and situations that are practical.
You can access free lectures.
Includes a monitor that serves as a study reminder
Japanese Ammo is set – up by Misa, an optimistic linguistic aficionado whose clips explore the finer points of the Japanese language. The site thoroughly describes Japanese grammar in the visuals so that it's not confusing for newlearners. The content is geared toward novices and transitional students.
This is the website for learning Japanese through anime and manga and examines the way that phrases are spoken by native Japanese speakers, providing insightful information that can make readers seem more genuine. You'll fully grasp why every Japanese phrase or term is utilized in that manner because she covers every topic she discusses in detail with simple, intuitive responses. It's one of the best websites to learn Japanese, featuring various lectures that might be helpful for both travelers and complete novices.
What we like: Provides in-depth lectures on the Japanese language and vocabulary.
Best for: In-depth learning
Benefits & Features:
Simple-to-grasp theories
Use an instructive album to tune in.
Increases comprehension of Japanese
Loecsen provides linguistic classes that beginners can pursue at their own speed. There are 17 themes—completely free lessons—in the Japanese course. There are tests and phrase tables included in these online flashcard-based courses. The first step for students is memorizing the phrases from each session, sound recordings, and useful pictures.
Afterward, you finish the surveys, which have a variety of exercises to aid with term and sentence learning. The Read Aloud feature lets you hear Japanese interpretations of any online material. Get an interpretation and computerized voice recording of any text by simply copying and pasting it. Also, the training covers and encourages writing in hiragana, katakana, kanji, and romaji.
What we like: Audio-based game card training
Best for: Audiolearning
Benefits & Features:
Provides 17 classes for free.
Auditory files and useful pictures can assist you with learning.
Wide range of topics is covered
The Japanese Page is among the top websites for learning Japanese language and culture. It is quite useful for beginners who want to understand the language as well as Japanese customs. Before you sign up for a premium program, it helps you get a concept for mastering the language. The Japanese Page is the best Website to Learn Japanese. It provides hiragana and katakana courses as well as assistance with writing Japanese words on your computer.
The courses also offer tips on the Japanese lifestyle and an understanding of what it's like to live there. One of the best elements of the service is Makoto, a digital journal available for a monthly membership that is jam-packed with learner-friendly material like tales with linguistic explanations, ethnic curiosities, humor, riddles, and a lot more.
What we like: You can unlock additional features by subscribing to this magazine.
Best for: Learning aboutethnicity
Benefits & Features:
Concentrate on Japan's ancient customs
Assists with keyboarding Japanese words
A monthly digital magazine subscription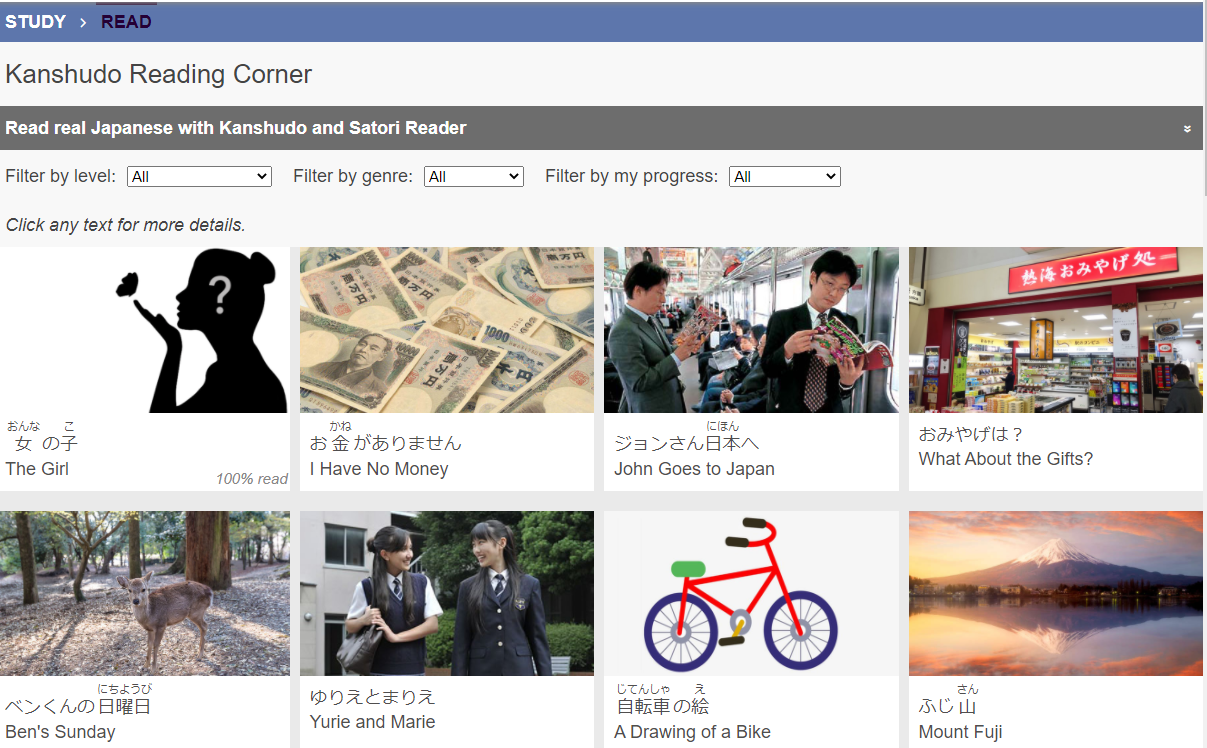 With free programs and planned courses, Kanshudo is among the best websites to learn Japanese as itdelivers a unique life lesson. Creating your own goals can help you concentrate on the Japanese topics you wish to master. You can even monitor your performance through the program's monitoring system for language, syntax, kanji, and particular research topics.
Together with lectures, this is among the best websites for learning Japanese vocabulary and grammar. It provides plenty of activities that help you repeat your learning and evaluate reading materials to help you improve your literacy. In addition, you can search for any word and its kanji using the system's extensive database. Finally, if you're studying using a Japanese textbook set, Kanshudo provides material assistance, making it a fantastic additional resource.
What we like: Enhances unique skills like language and linguistics
Best for: Skill gaining
Benefits & Features:
Free for the first 20 introductory classes
A monitoring system for progress provides a variety of games and study content.
Conclusion
These best websites to learn Japanese are accessible, making mastering Japanese online simpler than ever. Most individuals who study a language want to be capable of speaking it, so if that is the fact for everyone, pick a website that prioritizes communicating.
The only thing left is choosing the learning tools that best meet your needs and objectives because each offers an effective academic approach.