These Google ads tips can be very profitable for your business, but only if you know how to use them the right way. There are many nuances to the use of any advertising method and many people are not aware of the ways in which they can improve and better their overall ad campaign strategies using Google that will make their ad performance significantly better.
If you have been using Google ads but finding that they are not performing as well as you might like them to be for your needs, there are some tips and tricks that can improve your ad campaigns easily.
There is a lot to know about Google ads, but these tips and tricks can handle your overall strategic planning and make it far easier to come up with great ad campaigns that create big results.
If you are ready to find out more about simple Google ads tips that will make you more money, check out these tips any great Google advertising agency will use to make campaigns much more robust and efficient!
Simple Google Ads Tips That Will Make You More Money
1. Landing Page Improvements
A lot of people think of their landing pages as just a stop on their website that leads to other things.
This is not really how consumers see these pages, however, and they are the first impression that you are giving to consumers when they visit your site. If your landing page that is linked in your ad is boring, not relevant, or poorly constructed, your customers might be turned off and look elsewhere for their next purchase.
Quick read – InstaPage review – Best landing page builder
Improving your landing pages can make it much easier to make a good impression and generate big results for your overall sales and conversions.
Besides the benefits that are obviously related to having good landing page performance for your overall sales needs, you want to be sure that you are showing clearly on every page of your site what your business stands for.
This can dovetail nicely with branding and help promote your business values as well as your products.
2.  Use Negative Keywords
Many people think of the positive keywords that are associated with traffic to their website but they tend to forget that you can also optimize for negative keywords as well.
Keywords are how people find your business and you want to discourage ads being shown to people who are not looking for your company or your products as this wastes your ad budget on items that do not deliver any results for your brand.
Tell Google what your product is NOT just as much as you say what it is. You want your Google ads campaigns to be delivering your information to the right people and not showing your ads to those who are not interested in buying your products or services under any circumstances.
This ties back to having a clear knowledge of who your target audience is as well, which is another discussion point that should be involved in your overall ad optimization process.
3. Know Your Target Audience
Do you know who is your most ideal customer?
Have you taken the time to find out which demographics buy from you the most?
If you have not, you are missing out on one of the best ways to be sure that your ads are targeted at the right people every time.
As stated before, you do not want to be showing your ad to anyone who should not be seeing it. This just wastes your ad budget on ads that will not generate any results.
Once you know who your target audience is, you can also write better and more effective ad copy that will get people to notice your brand right away for all the right reasons.
Targeting makes every part of your overall process of crafting ads better and more efficient for your business needs.
4. Maintain Keyword Matches
You should make sure that you never let the keyword matches that you are using get out of date. Keywords are the lifeblood of your ad's matching statistics and you will find that you can get the best results from even older ad campaigns if you refresh the keyword matches that are set for them.
Optimizing is not a one-time process for ad campaigns or any other kind of online content creation and you need to be sure that you do not drop the ball on your overall optimization strategy by forgetting to improve and re-optimize your ads over time.
Keywords and searches can shift greatly over time and you need to make sure that your ads are keeping pace.
5.  Use Expanded Ad Texts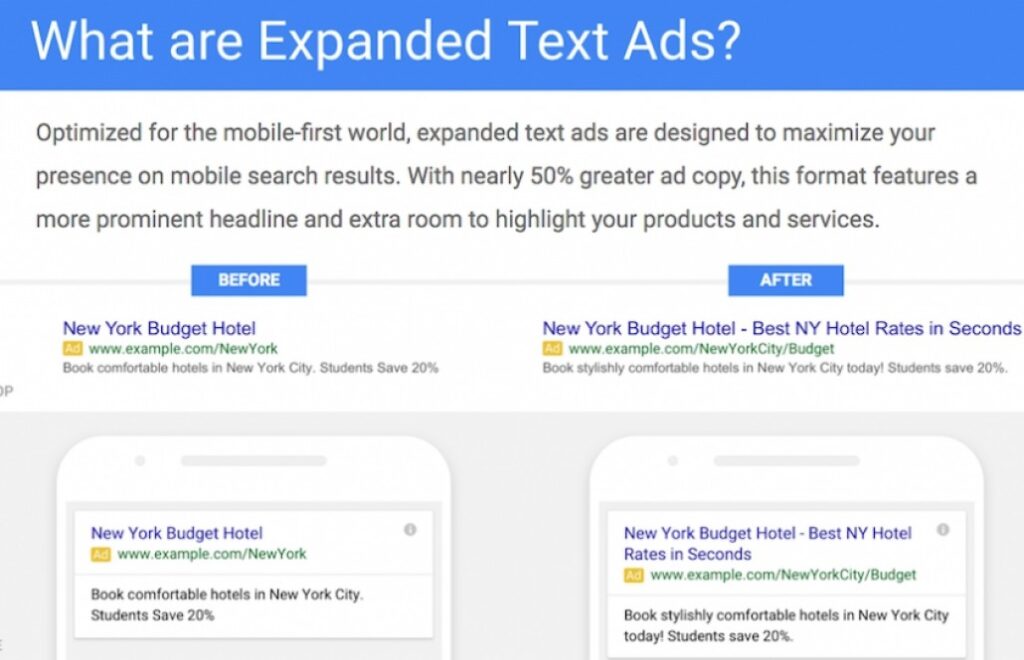 These are a bit newer to the options that you can use for your overall Google ad campaign design and you will find that using these ETAs can make your ads communicate much more value to those who see them and make it really clear what your products and services are right away.
You have such a limited chance to grab people's attention when you are showing ads to people online, any little edge can deliver big results.
Make sure that you use branding language and optimized keywords in these searches to make it worth taking the time to deliver these ETAs to your audience. Poorly constructed text can cause more harm than good, so you want to be sure you use this feature correctly.
Google Ad Tips and Tricks Can Create Big Results
You should never think that you know everything about Google ads as they are constantly being changed and improved with added features and chances for better conversions to sales.
You should have the attitude that there is always room for growth of your knowledge for ad campaign use.
Using these tools and tips and tricks properly can make your ad campaigns generate big results for your overall business needs every time your ads are shown online. Making sure that your ad campaigns are doing big things for your brand matters when you are budgeting for your annual ad campaign costs.
Read Next –