How to Create the Ideal Budget for Marketing
This article was written as part of the SEMrush Big Blogging Contest.

As the New Year starts, all marketers are now focusing on creating an Ideal Marketing Budget to get more sales to achieve their targets for the company to grow. But, if you aren't planning the budget for the marketing right from the start then you are losing business & money both side-by-side.
There are lot companies out there, who planned their budget for marketing based on the performance of the last year. If you ask me, then it's somehow a good practice to avoid spend too much on wasted efforts.
Always remember, you can't write good content overnight, it takes time to research and align all the information in a good manner. Likewise, planning a marketing plan document takes too much time, but it helps you through your strategies and relevant tactics.
Below example will help you understand how a marketing budget can be planned. We are now going to discuss things to create an ideal budget for marketing.
Marketing Plan and Budget (Step-By-Step)
Establish Your Marketing Goals
2- Overall Total Annual Marketing Budget for Your Company
3-    Outline your major marketing campaigns
4- Assign Budget Amounts to Each Channel
5- Implement a Marketing Budget Plan
1- Establish Your Marketing Goals
Marketing is all about goals.
Without them, you have no way of knowing whether or not your work is worthwhile.
Think of it like planning a trip. In order to know when you've arrived, you need to select a destination first. Otherwise, you would be traveling aimlessly.
With something as important as a marketing budget (which, let's face it, tends to be the first on the chopping block), you need a strong foundation and clear numbers if you want to show results.
Don't listen to another marketing department's strategy if you want to achieve YOUR goals.
Examples of Common Marketing Goals –
Those are some examples of broad business objectives. Now, what are some more specific goals that might be relevant?
Increase website traffic.
Gain more social media followers.
Grow an email list.
Improve conversion rates.
Get more website or social media engagement.
Drive more click-through on paid ads.
2 – Total Annual Marketing Budget for Your Company
Thinking about your marketing budget for next year? As always, your challenge is to make the most of your budget while satisfying the sales team with plenty of quality leads.
According to the CMO Survey, CMOs spend between 9.4% and 12.1% of their total company budget on marketing, although that number varies a bit from industry to industry.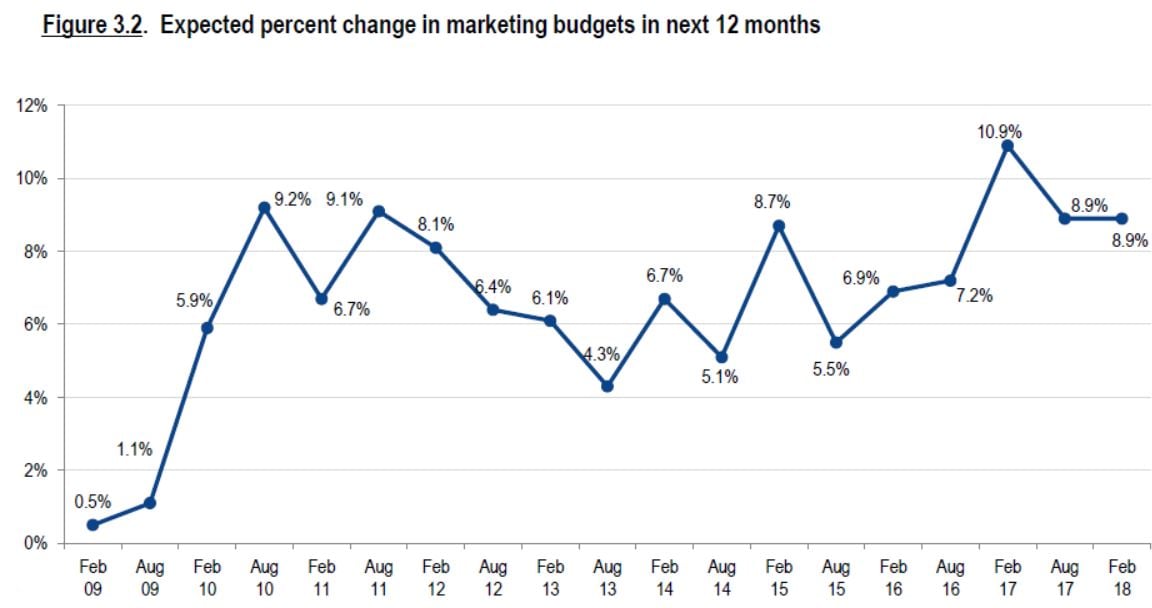 First thing first – you have to set clear goals for revenue and new customer acquisition for next year. How much revenue do you want your department to generate? And how many new customers will you need in order to reach that goal? What's Your Average Cost Per Lead?
If you don't know your cost per lead, the next best option is to look at what other similar companies are achieving.
The next number to determine is the rate at which these leads actually convert and become paying customers.
Again, if you don't have access to internal data to help you determine an accurate average conversion rate for your company, you can research average conversion rates in your industry to guide your decision making.
3- Outline your major marketing campaigns
When you're building your marketing plan, start by developing the audience profile, often called a persona. Your profile should include the following components:
Demographics
Values
Biggest challenges
How you solve those challenges
Current perceptions of your company/product
Common objections
You'll need to set your budget too, so the more planning you do now, the better. Your plans should include:
The top three campaigns you'll run to generate leads, nurture customers, close, and/or market to existing customers
The media you'll use (for example, email, social, print, telemarketing, trade shows, publicity etc.)
Tools, technologies or resources you'll need – for example, a new website, an email service provider, or a new piece of software
4- Assign Budget Amounts to Each Channel
First thing, decide what your goal is: branding, lead gen or sales? Before you launch any advertising campaign you need to pick your goal.
However, if your budget is less than $10,000 you need to really focus on one thing, especially if your business is brand new or not well known.
If your company is new I almost always suggest using your budget on a branding campaign.
I usually recommend focusing on pure branding for 1-3 months and then re-allocating part of the budget to lead gen and/or sales. Also, you should be tracking your results, especially if you are running a Facebook ad a/b test.
Getting to this point is the fun part because it's where you finally see your hard work paying off!
After you have spent 3 – 6 months working on optimizing your current campaigns, you can begin introducing new ones
5- Implement a Marketing Budget Plan
One of the best ways to make sure that your marketing money is being well spent is to develop a comprehensive marketing strategy and come up with a solid marketing plan.
Here are the six steps to developing a marketing budget as part of your marketing plan:
1. Know Your Sales Funnel
2. Know Your Operational Costs
3. Set Your Marketing Budget Based on Business Goals
4. Position Marketing as an Investment, Not a Cost
5. Consider Your Growth Stage
6. Understand Current and Future Trends
A marketing budget should include traditional market approaches as well as the emerging social media market. Focus on your audience, what form of communication they are likely to respond to, and what your message to them should be.