Before we begin on how to create a Facebook messenger chatbot, we will first look at what is a chatbot, actually, the name chat bot comes from the name chat robot. The letter RO are removed from the word robot to leave it to be chatbot, which is a service provided by a computer program which enables human conversation with a robot. The Facebook messenger chatbot is a messenger bot on a business page that allows clients to interact on your Facebook business page.

Facebook messenger chatbots allow business to have chats with people who log in the chatbot. When creating a Facebook messenger bot one has to consider two things, creating a chatbot that works on rules based on artificial intelligence and a chatbot that works on rules that are less than those of an artificial intelligence because they react to specific commands.
Creating a Facebook messenger chatbot requires chatbot building tools like chattypeople.com, which offers the ability to set up a bot and connect it to Facebook account. This process does not require any coding knowledge and one can sign up using a personal Facebook account. Once the Facebook account is already set up one can create the chatbot.
Things to note when setting up the Facebook messenger chatbot
1. The free Facebook messenger chatbot should have a unique name that makes it stand out from the rest of them all. This will give the users an easy time running a quick search in order to connect with it.
2. The Facebook chatbot should use hints on how to get started, the interface should be easy to use. The simplicity and ease use of chatbots on Facebook messenger has lead to increased sales to businesses that have adopted this application.

Other tools like chatfuel, botsify, and onsequel can be used to create a chatbot without coding.
3. To create a messenger bot for business, one needs to set up a chat fuel account, and then logging into a personal Facebook account and selecting plus sign to start a new messenger chatbot for business.
4. Next step involves choosing a template to modify or create the business chatbot from scratch, here the desired name can be put by clicking the red create chat button.
5. On the next page, select connect to Facebook, for the messenger bot for business one can choose to use an existing Facebook business page or creating a new page where the bot will be.

6. Now one click builds in the menu in the sidebar, in order to start creating the business chat bot without using any coding.
7. The welcome message on the text card is by default and is the first thing the users will see; one can keep the card or add another to it.
8. One can add features to the text card selected and buttons to the cards so that when users select it can take the next action that includes getting a phone number or URL.
The business messenger chatbot also gives room to give to include blocks into the button giving more information on a particular segment of a business.

The Facebook messenger can be linked to increasing sales by first making sure that the created and automated chatbot is tested and proved to be working properly, then change the call to action button on the business Facebook page to send messages in order to drive traffic to your chatbot.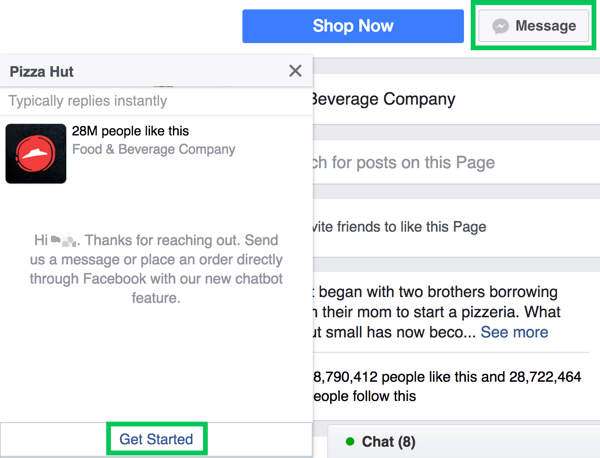 An example of a messenger Chabot is chritopherbot where it is a chatbot that helps students keep track of the homework they have been given in the course of a week.
A messenger platform is a new tool that helps a business build a messenger bot that is able to reach over a billion people around the world. On the messenger platform, there are bots and live-messaging tools that can be used to create a custom experience for the unique audience. With the messenger platform, one can come with a bot that can be used to reach people on whichever device and platform they are on.

The facebook artificial intelligence chatbot is software being researched on which will be able to manage short exchanges with people and simple tasks like restaurant booking this has been enhanced by teaching the bots understand human emotions and psychological responses so that to anticipate the mood of chat and conversation giving it an upper hand in winning a negotiation. This places the chatbot at a better advantage as they are able to tell when someone is lying and telling the truth that way making better decisions in a negotiation on behalf of the business entity
Save
Save