7 ORM Tools to Measure & Maintain Your Website Online Reputation
In Digital Era, Many brands or websites are suffering to maintain their online reputation, because no one knows where or on which website people are talking about their brand, what they feel about them? Just like large brands, your small business can be the subject of news stories, blog posts, social media comments, or consumer reviews.
There are lots of ways you can take care of your brand & your website reputation positive by responding to user's comments on social media, also on consumer complaints forums. This can also help to build your brand in a great way.
So, any online content, positive or negative, impacts how people view your business.
Eighty-three percent of consumers say online reviews influence their perceptions about companies and 80% report that negative online comments changed their purchasing decision
(source: eMarketer.com)
I am going to tell you some tools, which can help to monitor your brands day to day mentions on social media as well as search engines, so here we go with the list of top ORM tools which will help you track everything about website or brand or person:
One of my favorite tool in the list of website reputation management tools, why I am saying this because you can check blog posts, articles, and news stories in Google's search engine database for requested queries. Enter your company name or other keywords related to your business, and receive email alerts with the results. Price: Free.
Here comes another one, Social Mention. This tool will work similar to Google alerts but some of good features are like : you can measure your brand strength on social media, you can check the ratio of positive to negative remarks, how many individuals are talking about your company and in the end you can also check; towards how many people your brands has been reached.
Hootsuite is a social media management tool that allows you to maintain all of your social media networks in one place. You can track how many people are discussing about your brand on Social Media Channels like Google+, Facebook, Twitter, Linkedin etc.
Trackur –
Trackur is a social media monitoring tool that offers instant notifications when your brand is mentioned. Apart from giving real time update about your brand or website, you can check the mainstream of social networks, forums, images & videos. This is paid tool and you can buy this tool in $97 per month. It also allows you to do audit upto 50 keywords searches for your brand or website.
If you are looking for a perfect tool, who can manage each and everything about your brand then you should try Brandseye once. There are amazing features which no one has to make you WOW :
Get email notifications when your brand is mentioned online.
Track conversations and compare metrics with your internal data.
You can also check where the conversations are starting about your company.
You can buy Brandseye for $220 per month and up.
Rankur –
If you are not using Rankur as of now, then you are doing a big mistake. You can discover trending topics, you can track your brand social media presence & manage it. You can the results of your brand mentions by demographics. You can get a basic plan for free or opt for a paid plan with more features starting at $14 per month.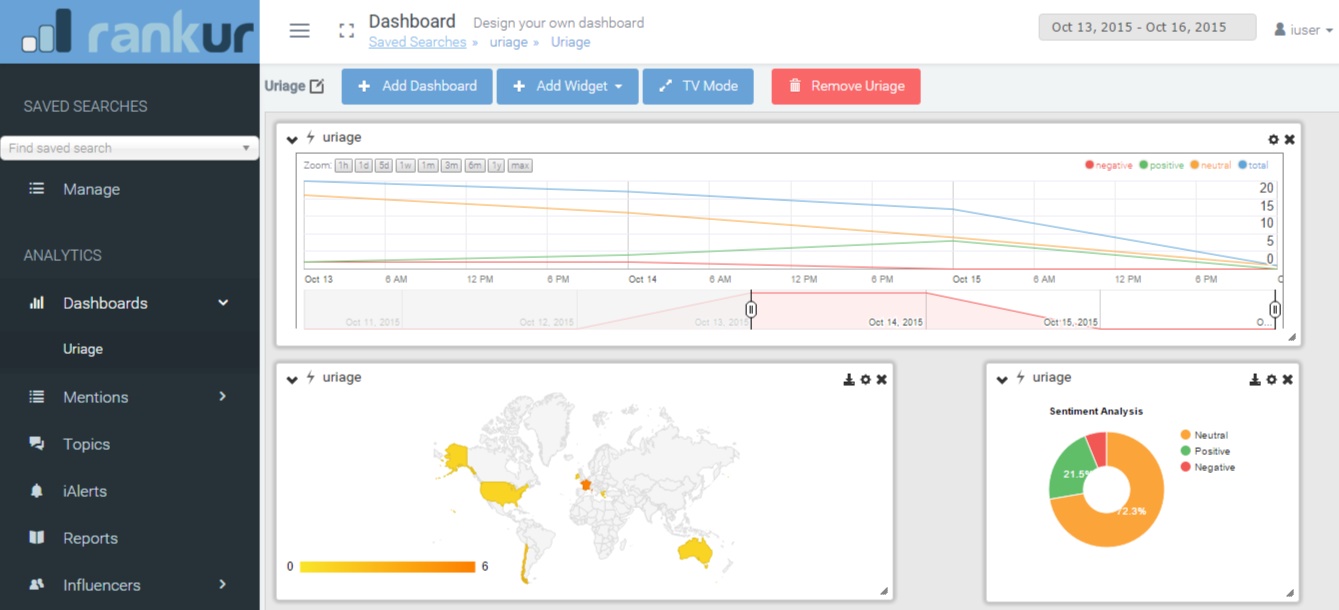 This awesome online reputation management tool is created by Go Fish Digital. By using this website, you are a specialized search on 40 complaint website which are indexed in Google. You can check every second about your brand or website positive or negative sentiments.
Online reputation management doesn't require a full-time schedule or even a significant time commitment. These tools streamline the process of keeping tabs on your brand across the Web, so you can focus on the critical tasks involved with growing your business.